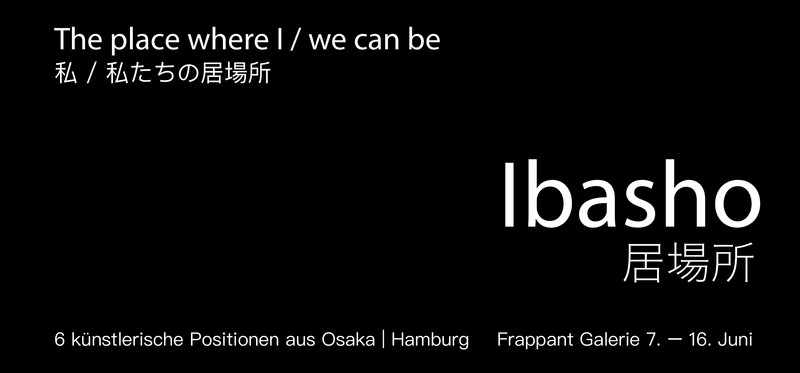 Group Exhibition "Ibasho – The place where I/we can be" @ Frappant Galerie
Ibasho – The place where I/we can be
居場所 – 私 / 私たちの居場所
Period: June 7 – 16, 2019
Time: 14~19 o'clock
Venue: Frappant Galerie
Address: Zeiseweg 9, 22765 Hamburg, Germany
Artists: Naoki Kajitani, Stefan Moos, Aki Nagasaka, Ralf Pleßmann, Tatsuya Sugimoto, Nobuko Watabiki
While the German word "Heimat"refers to the place where we come from, the Japanese word "居場所"(ibasho) refers to the place where we are, and it is often regarded as the place or environment where we feel senses of belonging, security and peace. These feelings could develop gradually over time, or they could also emerge suddenly. We could also have these feelings towards the place, which doesn't exist, except in our minds and memories. The notion of ibasho is paradoxical because it is extremely physical and metaphysical at the same time, and it is deeply connected to our senses as well as our feelings and memories.
Through our discussion for the exhibition, we realized that each of us has his own, different approach for ibasho – sometimes it's located in memories, imagination, desire or immediate reality. It also connects us to the broader, contemporary topics and current political situations. The question of "Where do we belong?" has perhaps become more important and pressing in our times, when the world seems smaller and more connected, as a result of contemporary technological developments, we can leave our birth places and choose to live somewhere else. At the same time, millions of people are forced to flee their homelands because of various political situations without knowing if they will be able to return. Also, some countries' borders are closing and it is getting harder for people to flee even if they want to. The quest for ibasho embraces all forms of voluntary and forced migrations taking place in the present.
Facing this broader spectrum of personal and universal issues brought by this topic, we have conceived the exhibition as a platform to contemplate on ibasho collectively. While we set up our individual works in the space, we try to create dialogues between our works, because, in the end, ibasho is not created in solitude "I" but rises in contact with others "we".