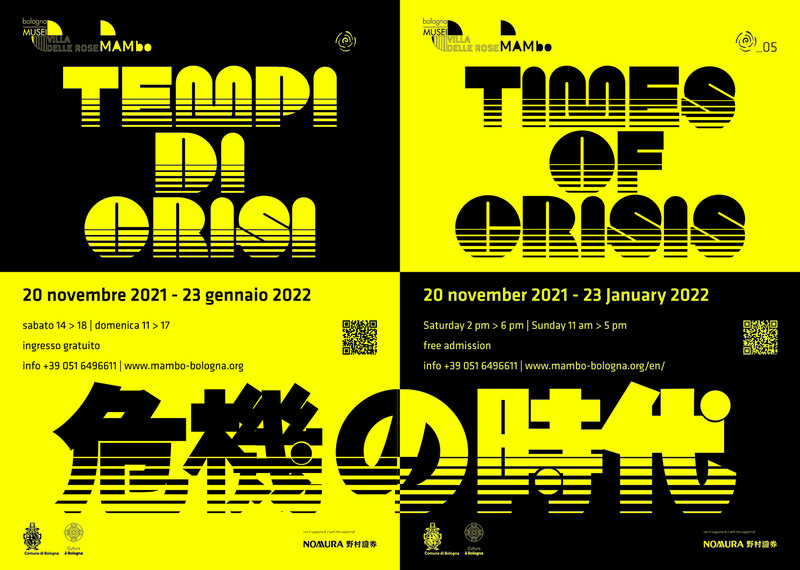 展覧会「危機の時代」@ ボローニャ近代美術館 / Exhibition "Times of Crisis" @ MAMbo – Museum of Modern Art of Bologna
MAMbo is pleased to present the exhibition Times of Crisis by Elisa Caldana (Pordenone, 1986) and Aki Nagasaka (Osaka, 1980), produced as part of the 2021 edition of the ROSE Residencies Program. The exhibition opens to the public on Saturday, November 20, 2021 and remains on view through Sunday, January 23, 2022.
Times of Crisis, curated by Giulia Pezzoli, constitutes the public restitution of an artistic and thought process that the artists developed during an eight-week stay in Bologna, which began in the second half of September 2021, as guests of MAMbo's Sandra Natali Artist Residency.
As envisaged by the call for selection, Elisa Caldana and Aki Nagasaka worked on an exhibition project that, starting from a research begun in 2018 in Tokyo during their residency at Tokyo Arts and Space, then found its place in the unique exhibition spaces of the eighteenth-century Villa delle Rose, while expanding the range of action to the city context of Bologna.
Precariousness, uncertainty, a continuous sense of crisis that touches every sphere, from politics to the environment, from the economy to the health situation, are concepts that every human being experiences daily, and that belong in a particular way to the latest generations: it is from this shared reflection that the artists, with their different sensitivities, have juxtaposed stories based on complex realities and everyday life with poetic images, drawings created by professional Manga illustrators, to give voice to the complexity of contemporary social reality.
The point of departure, Tokyo, and the point of arrival, Bologna, meet and are reflected in each other, losing their own peculiarities to give life to a third place, not geographical but derived, the space of Times of Crisis.
/////
Times of Crisis
Elisa Caldana and Aki Nagasaka
curated by Giulia Pezzoli

Exhibition Period: 20 November 2021 – 23 January 2022
Exhibition Venue: Villa delle Rose / MAMbo – Museum of Modern Art of Bologna
/////